This page is dedicated to those gifted craftsman using loggerheads outback timbers…..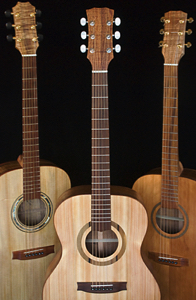 Australian Luthier, Chris Wynne


Founder of Thomas Lloyd Guitars and The School of Acoustic Guitar Making
at Montsalvat, Victoria.
Chris Wynne is the first Australian Luthier to have produced a complete
Box Set of DVD's that take you through every instruction of building an
acoustic guitar, in your own workshop environment.
"A Master Class In Acoustic Guitar Making - Using Australian Timbers"

Go to his
website
for more info.........
David Goldsworthy, Maker of Irish Uilleann bagpipes


David's Uilleann Pipes are made of high quality exotic timbers including air-dried gidgee which is becoming well-known in the pipe making world as a timber that exudes the tonal qualities of the more traditional pipe making timbers such as African Blackwood and Ebony.
David has recently added Loggerheads Gidgee to his timber stock which has produced fine sets of pipes with beautiful tone and finish that has drawn admiration from pipers and pipe makers around the world.

Visit David's
website at…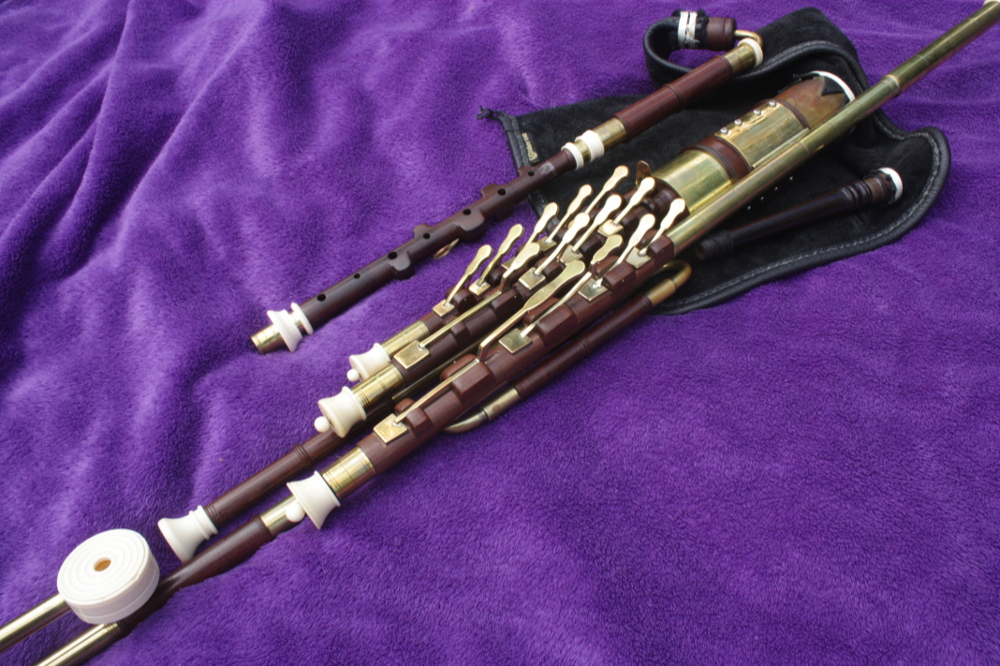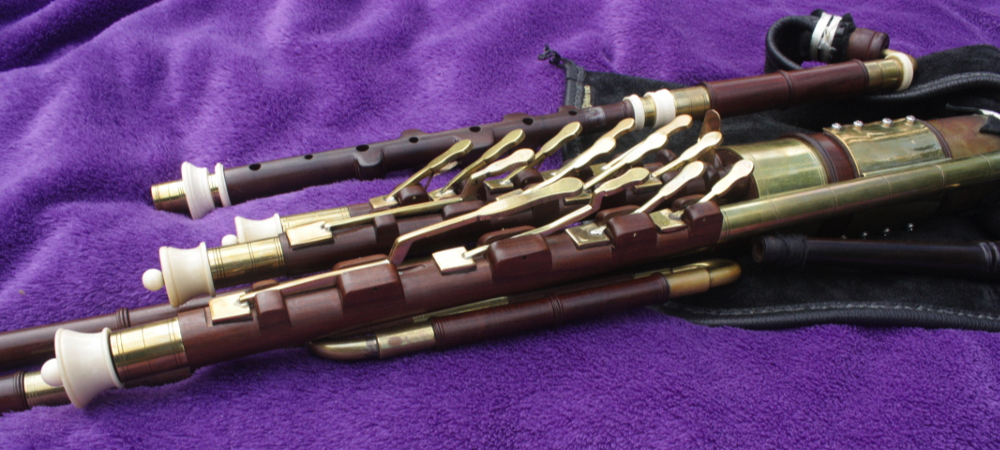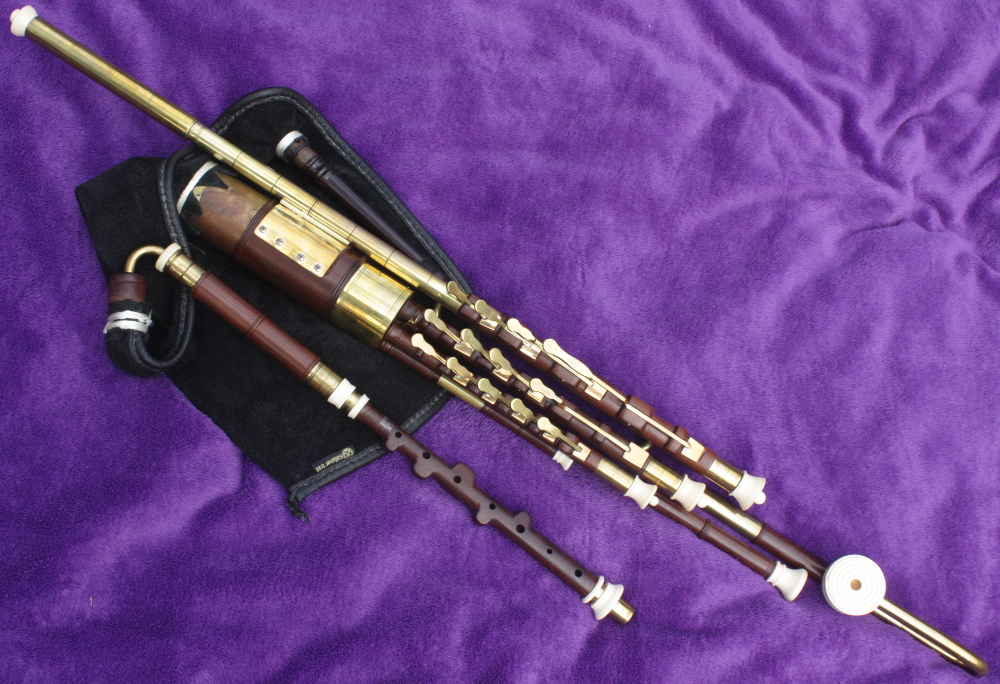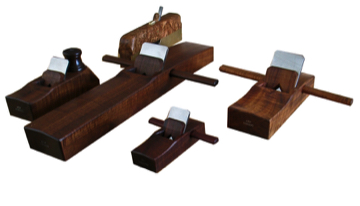 Master Plane Maker, Terry Gordon


After several years of development H.N.T. Gordon and Co Classic Plane Makers of Australia sold their first woodworking hand planes in 1995.
As Plane Maker Terry Gordon says...
"Any plane we make will be able to plane or scrape any wood without tearout.
We will only use high quality materials with a simple appropriate design to offer customers affordable quality in tools."

Visit his
website
for info and great tips......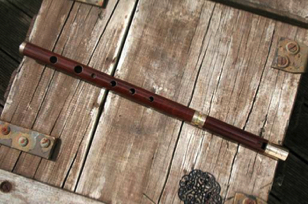 Mitch Smith, Master Whistle Maker


Oz Whistles Vambrace whistles are made in fine tonewoods with hand-cast metal fittings.
These whistles are made to the traditional straight-bore design with a tuning slide added.
All instruments are hand voiced and tuned.

Go to his
website
.…….
Michael Hutchins, Cigar Box Guitar Maker


Michael Hutchins hand built three string cigar box guitars are made from genuine cigar boxes
and incorporate Loggerheads Timbers and other Australian tone woods.
This style of instrument was played by the early Blues Masters from the 1850's through to the 1930's.
Each unique, one of a kind instrument delivers powerful fat, round authentic Southern Delta Blues
sound that can't be reproduced on a conventional six string guitar.

Visit Michael's
website
for contact details ….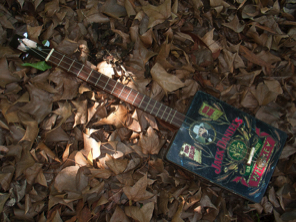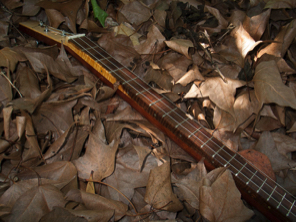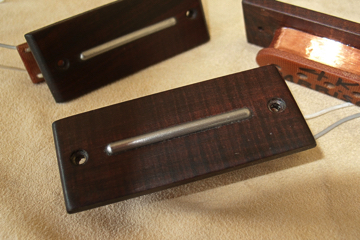 Bob Harrison, Hand Wound Guitar Pickups


For over 55 years Bob Harrison has been in and around the music business selling, repairing, innovating, designing and building music-related items.
His high-quality cigar box guitar pickups have their roots in the music and hard times of the American 1930's era dust bowl and Mississippi Delta American blues.
These pickups are finely-crafted with attention to detail and hand-wound to perfection using Loggerheads ringed gidgee.

Go to Bob's
website
for contact details and information about the materials used ….

These are Glenarley pipes made by Sydney Pipemaker Dale Jackson.

Ringed Gidgee is chosen for the visual features, the tonal quality and the stability of this sustainable Australian native timber.
All the ferules and imitation horn embellishments are screw cut for assembly as further testimony to the stability and ease of machining offered by Gidgee.
The machined finish of Gidgee is so reliable that all the tenon slides are hemp free and replaced with neoprene o-rings.

Dale can be contacted at
sqcjack@gmail.com
for further information.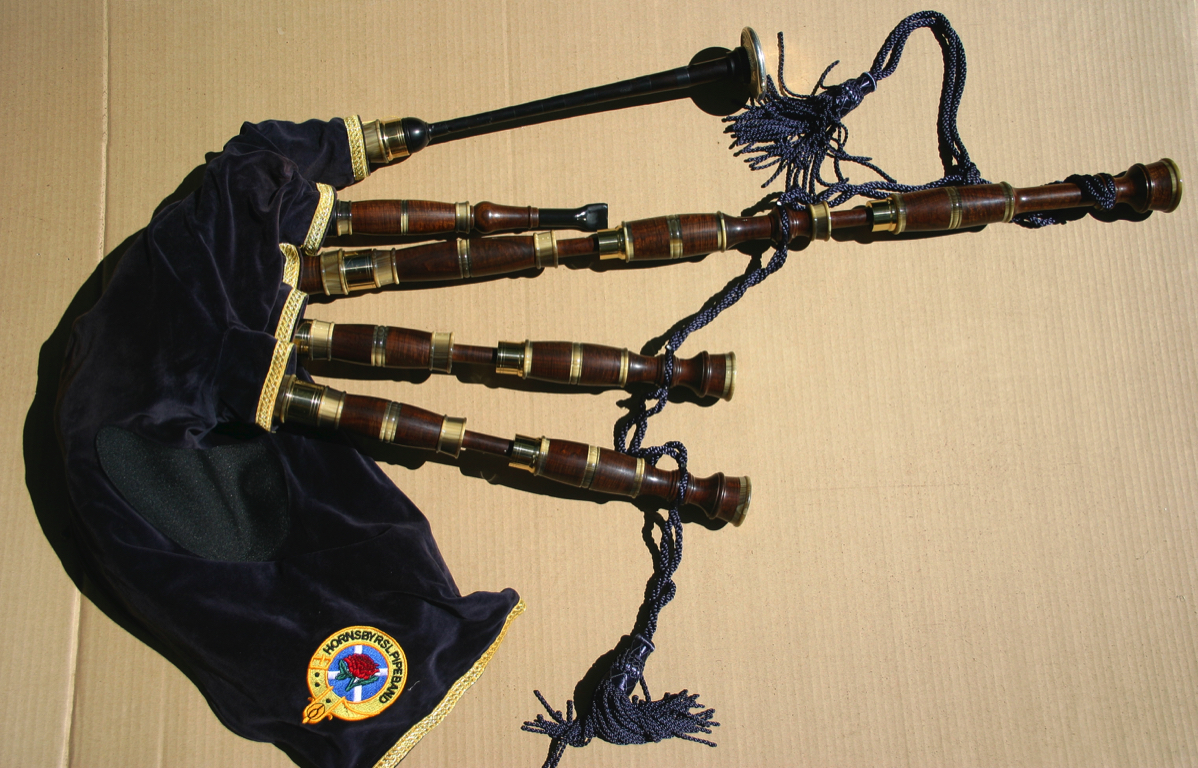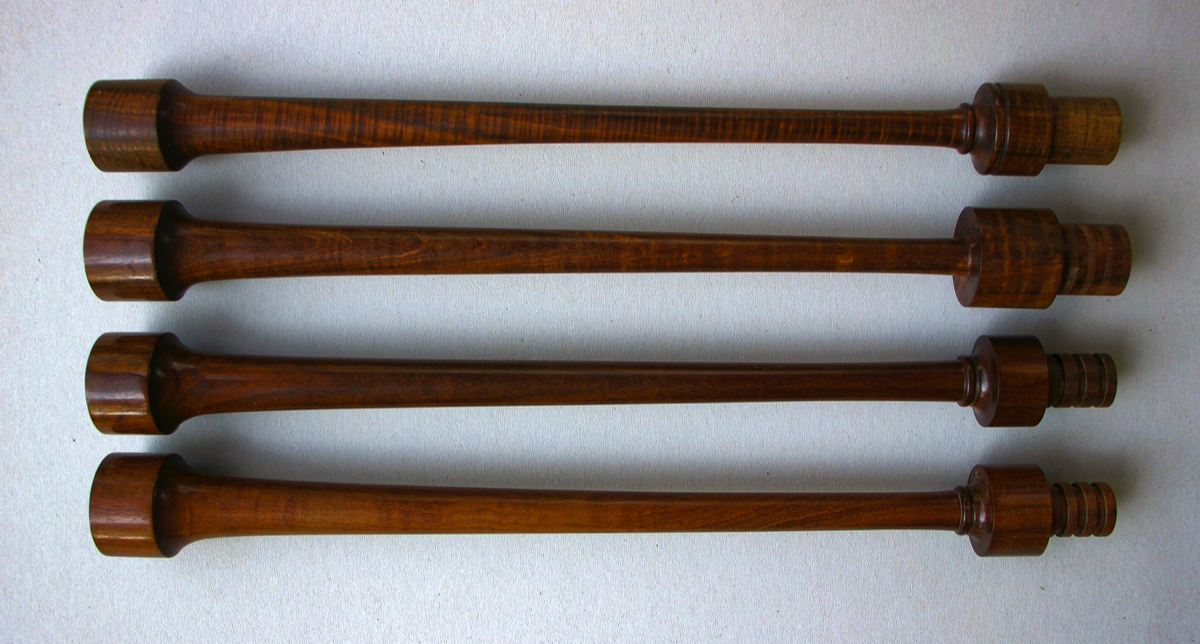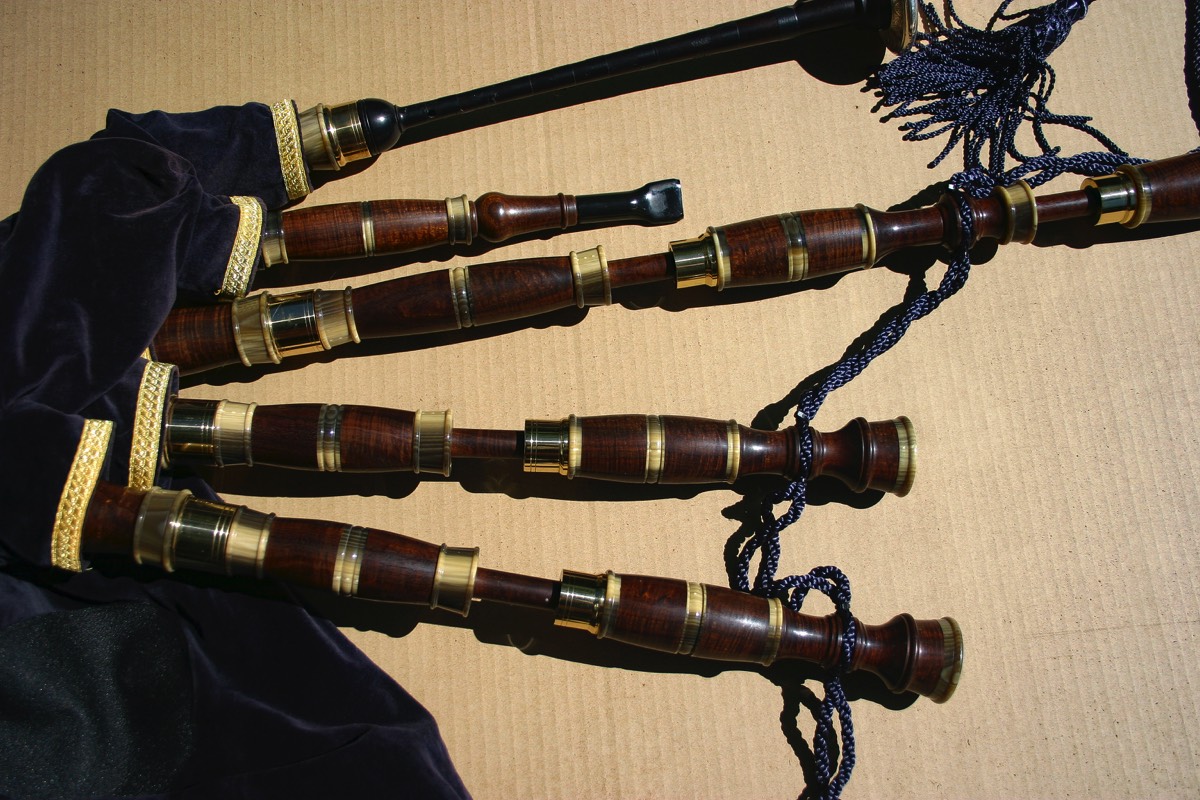 Andrew Clarke, Screaming Eagle Guitars


Specialising in unique electric guitars crafted from the amazing look and sonic diversity of Australian tonewoods.
Loggerheads timbers are a feature on the instruments made by Andrew, adding visual appeal and tonal character.

To see more of the guitars and for contact information go to:
www.screamingeagle.com.au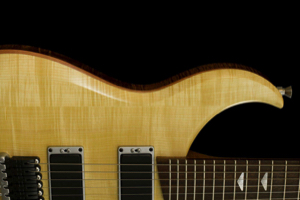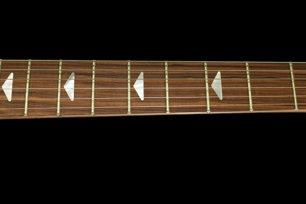 Martin Taylor Guitars
With a name like that he had to start making guitars!

Martin Taylor Guitars specialises in custom built Acoustic Steel string guitars made from all Australian tone woods. Gidgee and Mulga are perfectly suited to fretboards and bridges and Martin Taylor Guitars has utilised them exclusively on their guitars.
Martin Taylor Guitars use Loggerheads to supply us with the best selection of these great Australian Outback Timbers.


Go to his web:
www.martintaylorguitars.com.au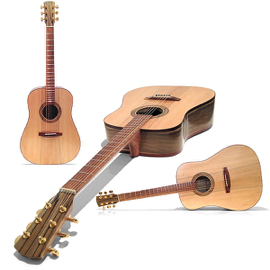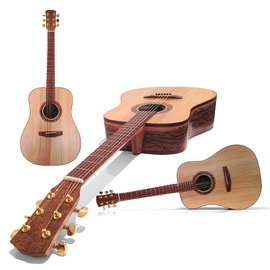 BARRY GARDNER & AMANDA KNIGHT


Gardner Knives is a knife making business, based in a studio at the JamFactory at Seppeltsfield Winery in the Barossa Valley, whose mission is to create quality handmade and hand forged kitchen knives that are beautiful to look at and an absolute joy to use.

We know that a unique Gardner Knife will be your 'go-to-knife' each and every time you are in the kitchen – simply because the knife looks so good and feels so enjoyable to use… you won't want to put it down!
We use Loggerheads and other Australian Timbers for our knife handles.

Check them at:
www.gardnerknives.com